Brand
Best Overall
Nikon SB-700
Best for the Money
Godox V860II-N
Best Cheap Pick
Neewer 750II
Product
Product Dimensions
9.25 x 3.15 x 8.27 inches
4.33 x 3.54 x 8.27 inches
Best Overall
Product
Best for the Money
Product
Product Dimensions
9.25 x 3.15 x 8.27 inches
Best Cheap Pick
Product
Product Dimensions
4.33 x 3.54 x 8.27 inches
Best Overall Flash for Nikon D750: Nikon SB-700
While it is over a decade since the introduction of the Nikon SB-700 Speedlight, it still is a worthwhile selection for Nikon D750 camera owners. Although it is our priciest option, its quality specifications explain why we consider it the best flash for Nikon D750.
Similar to other flashes within its caliber, the flash offers you a normal head positioning. You can direct it to face the ceiling, rotate it around though 180 degrees to get a perfect position. You can even tilt it to -7 degrees, a convenient positioning for close-up photos.
The Nikon SB-700 is usable as a transmitter or a receiver. You can use it with two groups if it's in a commander or three groups if it's in a receiver, making it suitable as a companion to your other flashes.
It has a switch that allows you to select from three light distribution patterns with ease. Sometimes, you may want to balance the flash's color temperature to a tungsten or fluorescent light. Fix the included gels, and the camera automatically determines the color temperature for quick white balance adjustments.
The unit also comes with a diffusion gel to soften the light even during fluorescent and tungsten lighting. The auto power zoom coverage enables auto-lighting adjustments depending on focal length.
Sale
Nikon SB-700 AF Speedlight Flash for Nikon Digital...
Portable, Versatile Speedlight Unit
Nikon's Precision i-TTL Flash Control
Complete Flash Head Positioning Freedom
Best Flash for Nikon D750 for the Money: Godox V860II-N
If you want to enjoy many excellent features, almost like the Nikon SB-700 offers but at a more budget price, Godox V860II-N may be it. Like our top selection for Nikon D750 cameras, you also get the same range of head movement.
While it is slightly heavier than the Nikon SB-700 by 90g, its affordability and functionality are pretty attractive. Just like the Nikon SB-700, it comes with auto power zoom coverage for convenient lighting adjustments with distance. The user interface is intuitive, giving you an easy time to set up your unit.
Its 2000mAh lithium battery is another addition you may find pretty pleasant. Using the device's default settings, you get a recycle duration of one and a half seconds. Although flash activations depend on preferred settings, the unit can deliver up to 650 of them per battery charge.
The attached bounce card and diffuser assist you in achieving the perfect light settings for your application. You also get a nice carrying case with it, a protection case, and a color filter. Given it works with all Nikon cameras, it is a convenient choice if you have an assortment of the same.
Godox V860II-N 2.4G TTL Li-on Battery Camera Flash...
Godox wireless X system, build-in 2.4G wireless transmission offers all-in-one functions and 100...
Fully support TTL functions, support for TTL auto flash, manual flash, 1/8000 high-speed sync, flash...
Godox VING TTL Li-on camera flash V860II guarantees better light shooting experience with build-in...
Best Cheap Flash for Nikon d750: Neewer 750II
The Neewer 750II makes an excellent alternative for budget-tied photographers in need of a flash for their Nikon d750. Affordable yet with TTL (Through The Lens) capabilities like other options on the list except one, the unit offers you a convenient mode for quick scene setups.
With its various modes, the Neewer 750II allows you to select the ideal option depending on your conditions. You get the TTL mode, manual mode (M), Strobe, S1 (Slave 1), and S2 (Slave 2). Pressing the mode button may be slightly finicky, although it gets it done.
Akin to other options on the list, the Neewer 750II also features an LED screen. You can determine your adjustments with ease during low-light situations and hectic conditions. It uses four AA batteries, and while their encasement is slightly tough to close, once you get it, that's it.
Setting up the Neewer 750II is made easier by the intuitive controls, and the presence of an Auto Focus (AF) assist lamp. The AF projects a beam of light to help your camera autofocus.
It has a similar rotation angle vertically to options like the Nikon SB-700. It takes the range a little further when it comes to horizontal adjustments, permitting you to tilt it through 0-270 degrees.
Sale
Neewer 750II TTL Flash Speedlite with LCD Display...
Powerful Flash with High Guide No. 58 (m) / 190ft(at 105mm focal length,ISO 100 in meters/feet).
Charging socket for external power pack: adds a charging socket for external power pack. PC...
Vertical rotation angle:-7 to 90 degrees;Horizontal rotation angle:0 to 270 degrees.
Best Flash for Nikon D750 for the Features: Godox V1-N
Most photographers using the Godox series may probably be more familiar with the V860II-N than the Godox V1-N. It's more on the higher end than the former Godox flash, although it comes with slight upgrades to make up for this.
Between the Godox V1-N and the Godox V860II-N, the V1 may have better interphase when using your flash as a master. When you are controlling three other lights off-camera, the V1-N get's the process done with fewer button presses.
Unlike other flashes on our list with a generally cuboid head shape, Godox VI features a cylindrical one. It dissipates more pleasant and even light than the Godox V860II-N. You should, however, ensure you modify it just like any other flashes for Nikon d750 to avoid getting harsh light.
One of the most outstanding Godox V1-N features is the reverse tilt function. The unit takes adjustability to a whole new level by going through -7 to 120 degrees vertically. The Godox V1-N comes with a switch lock instead of a twist lock. While both offer longevity, the switch lock may be a more secure option.
Godox V1-N Round Head Camera Flash Speedlite, TTL...
[Compatible with] V1-N Compatible with Nikon DSLR Cameras and is compatible with i-TTL autoflash.
[Build-in 2.4G Wireless X System] Optic transmission with even illumination and stable output....
[Support TTL Functions] TTL autoflash, Manual Flash, 1/8000s High-speed sync, Flash Exposure...
Best Tilt Angle Flash for Nikon D750: Yongnuo YN968N
What we first liked about the Yongnuo YN968N is the extra mile the flash goes when it comes to the range of movement. Unlike other Nikon D750 flashes on our list, this unit can tilt horizontally up to 150 degrees. You can bounce light behind you without taking your eyes off your camera.
The Yongnuo YN968N also comes with an LED added underneath the flash. Given how annoying it might be switching from flash to LED, the unit makes it convenient thanks to its LED positioning. It comes with an orange gel, and you can adjust the LED to achieve your preferred lighting conditions.
Being a master flash, the unit allows you to control other Yongnuo flashes using it. It features three modes (TTL, multi, and manual) to select what fits your profile.
The flash features a high-speed sync functionality reaching 1/8000s. Although not the fastest on the list, it still offers an impressive performance. You also get first and second curtain sync support from this flash.
Its recharge time is a little more than a model like the Godox V860II-N. While this may be so, its recharge rate of about 2.4 seconds is still within an acceptable margin in hasty situations.
While it might not be a Nikon flash, this Yongnuo flash is perfect for your Nikon camera and is well reviewed.
YONGNUO YN968N Wireless Camera Flash Speedlite...
When YN968N is used as Master unit, It can control and Fire YN968N/YN622N(II)/YN685N being Slave...
When YN968N is set as YN622 (Slave mode), It can received control signal or trigger signal from...
GN60@ISO100, 105mm, supports high-speed sync TTL, manual flash, multi flash, Gr grouping flash, the...
Best Manual Flash for Nikon D750: Yongnuo YN560 IV
The Yongnuo YN560 IV is a pretty similar model to other YN560 flashes. What distinguishes it most from other YN560 camera flashes is the inclusion of the internal receiver system. This system facilitates its compatibility with RF triggers for Yongnuo .
Using the flash is pretty straightforward. While it may resemble a Canon 560EX II Speedlight, including the side buttons on the head, it may be easier to use. With this unit, you don't have to press the side buttons to adjust its head's positioning.
Equipped by not only a powerful output but also a fast recycle speed, the flash can keep up well during your busiest shoots. Sure, its three-second recycle time is a little longer than most Nikon D750 compatible flashes on the list, although still quite good.
Akin to other options on the list, this flash comes with a diffuser built in and a bounce card for controlled lighting. Although it may lack TTL functionality like the rest of the options in our review, it is the second most affordable and relatively easy to use.
YONGNUO YN560 IV Wireless Flash Speedlite Master +...
YN560 IV=YN560III+YN560-TX, Supports Wireless Master Function.
Supports Wireless Slave Function, fully supports YN560-TX, RF-603 II RF-602 Wireless Transmitter.
Supports Multiple Trigger Synchronous Mode. Endure the battery is fully changed.
Features to Consider in a Flash for Nikon D750
The Nikon D750 flash inbuilt flash, while a considerable addition, is far from delivering the performance needed for quality real estate photos. It lacks the intelligence a top external flash offers, leaving your images a bit exposed. So, what features do the best flashes for Nikon D750 have?
Guide Number
The guide number denotes the distance at which your flash can illuminate the subject adequately. If you select a flash for Nikon D750 with a high guide number, it means you can utilize your flash with your subjects at a far distance.
The guide number goes hand in hand with the aperture. Let us assume you are using the Nikon SB-700 flash on your Nikon D750 camera. If the aperture is at f/4, you can illuminate objects up to 23 feet away at ISO 100.
So, how do our top flashes for Nikon d750 compare in terms of the guide number? Below is the breakdown of the guide numbers of our top picks at ISO 100.
Guide Numbers for the Best Flashes for Nikon D750
Nikon SB-700: 92 feet
Godox V860II-N: 197 feet
Neewer 750II: 190 feet
Godox V1-N: 92 feet
Yongnuo YN968N: 197 feet
Yongnuo YN560 IV: 190 feet
As you can see, all the selections surpass the guide number of the inbuilt flash of Nikon d750 rated at 39.4 feet at ISO 100. If you are looking to illuminate objects at far distances, the Godox V860II-N or Yongnuo YN968N might be your best choices.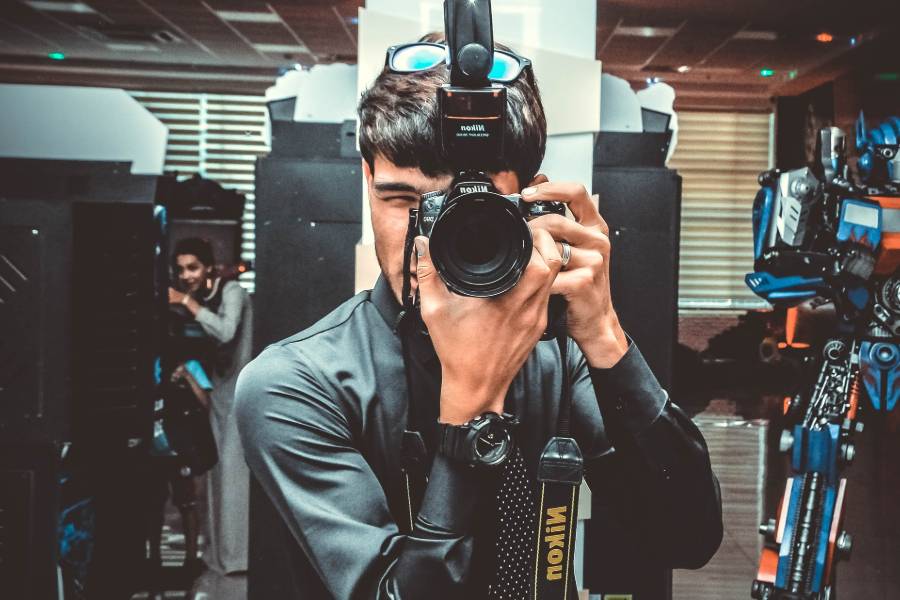 Manual or TTL
While all our best options except one are TTL camera flashes, our final option is a manual. So, should you consider the Yongnuo YN560 IV or pick one of the TTL cameras?
Manual Flash
Since a manual flash functions best for set-and-forget situations, you need to determine your camera settings, light positioning, and subject location. Upon setting your flash power and camera, you can begin shooting. You can adjust your lenses, change the camera's position, provided the aperture settings are constant.
You have to guess your flash power on the downside, although this typically gets less challenging with experience. Even if you get close to optimal settings, you may need a bit of fine-tuning.
TTL Flash
A TTL flash shines a burst of light to detect the subject's distance from your Nikon D750. Based on the length, TTL flashes automatically determine a suitable brightness level.
While presenting a quick way to determine your lighting settings, TTL flashes are still imperfect. When shooting bright subjects, the flash may lower its power than necessary. The opposite may happen with a dark object.
When shooting things like floors, walls, house photos, or general stationery photos, you may decide to go manual and get rid of any TTL's guesswork. Capturing events with your Nikon D750 may require a TTL flash to save the time of changing your power requirements.
Recycle Time
Recycle time denotes the amount of time your flash takes before you can take another photo with your Nikon D750. Now you may ask, "Is recycle time important for real estate photography?"
In most cases, you may not need to worry much about your flash recharge time, like taking real estate listing photos. Real estate photography, however, goes beyond listing pictures. You may need to document building construction or demolition photos.
With a faster recycle time, you can take pictures quickly, thanks to the rapid rate of illumination. So how do our recommended flashes for Nikon D750 compare in recycle times?
Nikon SB-700: 2.5 seconds
Godox V860II-N: 1.5 seconds
Neewer 750II: 3 seconds
Godox V1-N: 1.5 seconds
Yongnuo YN968N: 3.0 seconds
Yongnuo YN560 IV: 3.0 seconds
Conclusion
Please take advantage of our best flashes for Nikon D750 cameras. With either of these options, you can illuminate your scenes much better, avoid draining your Nikon D750 battery, among other advantages. Depending on your desired features, our diverse selection and detailed guide should help you land on a suitable flash.