Brand
Best Overall
Nikon SB – 500 AF
Best for the Money
Nikon SB – 700 AF
Best Cheap Pick
Meike MK910
Product
Product Dimensions
6.93 x 3.43 x 4.57 inches
7.87 x 3.07 x 2.28 inches
Best Overall
Product
Product Dimensions
6.93 x 3.43 x 4.57 inches
Best for the Money
Product
Best Cheap Pick
Product
Product Dimensions
7.87 x 3.07 x 2.28 inches
Best Overall Flash for Nikon D5300: Nikon SB – 500 AF
The Nikon SB - 500 AF is one of the best flashes for Nikon D5300, thanks to its high build quality and a surprising amount of functionality. Its incredible settings give you complete control over the light around you by allowing you to change brightness and shadows to give your photos a sense of depth.
The Nikon SB-500 AF head tilts 90 degrees upward and rotates 180 degrees left and right, letting you bounce light off surrounding surfaces to soften shadows and create more pleasing portraits. While it falls short of what other camera flashes can do, it still meets the needs of the vast majority.
The SB-500 is the first Nikon model to use LED light as an additional video recording resource. It has a built-in high-intensity LED light that offers consistent, uniform daylight-balanced lighting for recording up-close interviews.
It also includes Nikon's intelligent-Through-The-Lens (iTTL) technology, which modifies the flash's output to each photograph you take, ensuring that you get the best outcomes possible. While it is considered old technology by today's standards, it is surprisingly effective in fill-lighting outdoors and soft bounce lighting indoors.
Pros
The good build quality to easily carry around
The simple and basic menu system for customizing settings
High-intensity LED light suitable for video recording
Commander and remote wireless flash options compared to previous flashes
Cons
It is more expensive compared to other flashes
The flash would run out of batteries faster than other flash units.
Sale
Nikon 4814 SB-500 AF Speedlight (Black)
intelligent-Through-The-Lens (iTTL) technology tailors the characteristics of the flash to each shot...
Wide coverage with a guide number of 24/78.7 (ISO 100, m/ft) with 24mm coverage in FX-format and...
Head rotates 180 degrees left and right and tilts 90 degrees upward allowing you to bounce light off...
Best Flash for Nikon D5300 for the Money: Nikon SB – 700 AF
The Nikon SB-700 AF is one of the best external flashes you can get, thanks to its compact size and feature set. It's ideal for the Nikon D5300 as well as other smaller DSLRs. It is, without a doubt, one of the most popular Nikon external flashes at the moment.
Compared to previous generations of Nikon models, the flash and control system interface has been significantly improved, making it much faster and easier to use. Switching between the lens, manual, and guide number modes of the camera through the control switch in seconds that you need for your photograph is now simple and fast.
The flash head on the Nikon SB-700 can rotate at a much greater angle. A variety of angle rotation markers have been added to the top of the flash system to help you monitor the flash rotation if necessary. Thankfully, the Nikon SB-700's head can rotate 360 degrees, while older flash systems couldn't.
When the Nikon SB-700 overheats, it simply increases the recycling period to allow you to continue using the device as it cools down. If you're a real estate photographer, this can be a huge selling point because you could be clicking away in rapid succession, causing your flash to overheat.
Pros
Compatible with most models
Easy to carry
Quick recycle time of 2.5 seconds
Affordable price compared to SB-500
Cons
Low guide number of 92 feet at ISO 100
Too many steps to execute functions compared to SB-100
Nikon SB-700 AF Speedlight Flash for Nikon Digital...
Portable, Versatile Speedlight Unit
Nikon's Precision i-TTL Flash Control
Complete Flash Head Positioning Freedom
Best Cheap Flash for Nikon D5300: Meike MK910
While we recommend the Meike MK910 as a budget flash for your D5300, it still provides good versatility for your photography sessions without breaking the bank. It has a good reputation, making it ideal for an entry-level photographer.
While the flash is placed on your D5300, all of the control buttons are easy to reach and toggle. On the other hand, the keys feel a little cheap to use and can be a little rigid when pressed.
The Meike MK910 also supports TTL, M RPT, HSS, MASTER, and SLAVE. Each of these modes has been tried and tested, and they all perform admirably given the flash unit's low price. One of the key reasons it is used as a slave flash so often in technical studios is the durability of the modes on the flash.
The flash's build quality is reasonable for the price. Its built-in water and dust proofing systems successfully provide an extra layer of security for your camera flash when used outdoors or in dusty environments.
Pros
The good build quality to withstand constant use
Lightweight and easy to carry around
Excellent dust and waterproof function for dusty locations
Supports high-speed synch of 1/8000s that supports high-quality images
Cons
Less Powerful Compared to the Nikon Flashes
Sale
Meike MK910 i-TTL HSS 1/8000s HSS LCD Display...
Maximum GN.60 (105mm, ISO 100 meter),Flash range 24-105mm lens focal length
Flash mode: TTL/M/RPT/HSS/MASTER/SLAVE/S1/S2 . New additions of power socket and PC port.
Support Front-curtain, Rear-curtain sync, FEB, FE Lock, AF assist beam, setting custom function,...
Best Third-Party Flash for Nikon D5300: Yongnuo YN968N TTL
Despite the fact that it is not a Nikon-branded flash, the Yongnuo YN968N TTL flash has a lot of valuable features at a reasonable price. The flash has a guide number of 196 feet and a power range of 1/128 to 1/1. The power is comparable to the Nikon SB-700, but the recycle time is around three seconds longer.
The YN968N's bounce head rotates and tilts, and it has a zoom range of 20-105mm. Despite the fact that it was not developed by Nikon, the flash supports Nikon's i-TTL and has high-speed sync. For video, a continuous LED is included, just like the SB-500. The flash is under a pound in weight and runs on four AA batteries.
The flash also has built-in RF wireless control. Newer camera bodies, such as the SB-5000, do not allow you to monitor the off-camera flash. However, you can add a second YN968N to the camera's top to shoot one (or more) off-camera. For photographers on a tight budget, the YN968N is a decent option.
Read more in our article on the best Yongnuo flash for Nikons.
Pros
High powered LED light that you can adjust the brightness easily
Contains a manual control to control how you will direct your photography
High-quality flash that is compatible with Nikon Cameras
Cons
Very expensive compared to other flashes
Slow recycle time of 3 seconds at maximum power
Sale
YONGNUO YN968N Wireless Camera Flash Speedlite...
When YN968N is used as Master unit, It can control and Fire YN968N/YN622N(II)/YN685N being Slave...
When YN968N is set as YN622 (Slave mode), It can received control signal or trigger signal from...
GN60@ISO100, 105mm, supports high-speed sync TTL, manual flash, multi flash, Gr grouping flash, the...
Features to Consider in a Flash for Nikon D5300
Luckily, several flashes are compatible with your Nikon D5300, allowing you to take excellent images without the use of professional lighting. When selecting a flash for your Nikon D5300, there are a few things to keep in mind.
GN Value
The GN, or guide number, is a measurement of the external flash's strength. Often look at the GN value of your flash to get an idea of the power levels your Nikon D5300 will be able to handle. If you choose a flash with a higher GN number, the light that hits your object will be brighter. If you're shooting in a dark setting, this can be useful.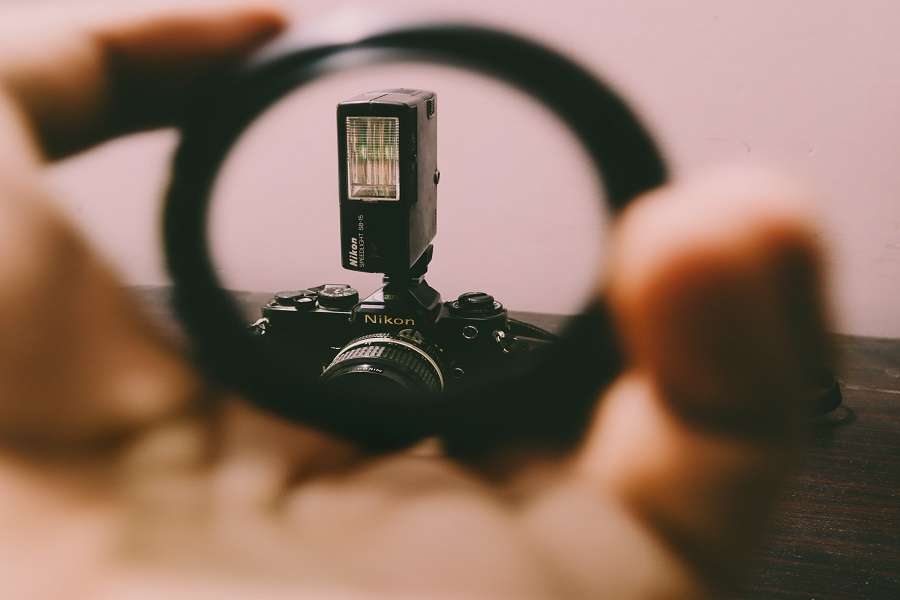 Recycle Time
When choosing a flash for your Nikon D5300, it's critical to remember the flash's recycle time. The lag time between a picture taken with your camera is known as the recycle time. To take photos in fast succession when using an external flash, you should aim for low recycle times.
The value of this function is entirely dependent on how you use it. If you're covering live events that necessitate fast shutter speeds, a flash with a quick recycle time can come in handy. Since your subject is static, there isn't much of a need for a super-fast recycle time when it comes to real estate photography.
Adjustable Temperature
External flashes are mostly large and power-hungry machines. This causes them to heat up easily, which is why it's important to look into the flashlight's temperature control specifications.
On the manufacturer's official website, you can easily search for the adjustable temperature. Keep in mind that the hotter the flash, the more difficult it is to maintain while using it with your Nikon D5300. For those who need to take pictures for long periods of time, this can be a problem.
Frequently Asked Questions
Does Nikon D5300 have TTL?
Yes, it does. The camera and the flash will interact with each other using the TTL Nikon D5300 to determine the best exposure that balances both the subject and the ambient light.
Conclusion
A camera flash is one of the most important pieces of gear for your Nikon D5300. It aids in the creation of better photographs, especially those taken in low light. Of course, every Nikon digital camera has a built-in flash, but it's only useful in some situations. You'll need to buy a separate flash to meet these requirements if you want to get decent shots all of the time.