Brand
Best Overall
YN600EX-RT II Wireless Flash
Best for the Money
Yongnuo YN968N II Wireless Camera Speedlite
Best Cheap Pick
Yongnuo YN-560 IV Speedlite
Product
Product Dimensions
2.44 x 3.07 x 8.07 inches
8.66 x 3.94 x 3.54 inches
Best Overall
Brand
YN600EX-RT II Wireless Flash
Product
Product Dimensions
2.44 x 3.07 x 8.07 inches
Best for the Money
Brand
Yongnuo YN968N II Wireless Camera Speedlite
Product
Product Dimensions
8.66 x 3.94 x 3.54 inches
Best Cheap Pick
Brand
Yongnuo YN-560 IV Speedlite
Product
Best Overall Yongnuo Flash for Canon: Yongnuo YN600EX-RT II Wireless Flash
Many photographers use Canon cameras because of their excellent image quality, contrast, and focus. When your Canon camera doesn't have a flash or the built-in flash isn't powerful enough, the Yongnuo YN600EX-RT II Speedlite comes with multiple features that can go against in-house flashes of Canon.
One of its selling points is the navigation panel's ease of use. For instance, you can easily mount the YN600EX-RT II flash on a Canon 70D, and you can save a bunch of time in controlling the settings.
While the YN600EX-RT II's recharge rate is 0.5 seconds slower than the YN968N II, they both have a powerful flash output of 60m. Hence, this is still fast enough for landscape and real estate photography.
Pros
Buttons and controls are easy to use, especially for beginners.
Flexible rotating head that makes it easier to bounce light off the ceiling.
Cons
The flash quickly runs hot, although there's an indicator light that can warn you about it.
YONGNUO Updated YN600EX-RT II Wireless Flash...
Updated version from YN600EX-RT.
Multiple Trigger Mode Supported.The YN600EX-RT II can be triggered by the camera set-top, PC...
Ultrafast Charging Recycle System, Supports External Power Supply. It just take 2 seconds at full...
Best Yongnuo Flash for Canon for the Money: Yongnuo YN968N II Wireless Camera Speedlite
Another strong competitor for the best Yongnuo flash for Canon is the Yongnuo YN968N II Speedlite, mainly due to its variable flash settings, user-friendly interface, and price point.
With a recharge rate of 2 seconds, the YN968N has the fastest recycle time out of all flashes on this list. In effect, you can fire the flash up to 1500 times using fully charged batteries.
With a powerful flash output of up to 60m, you can avoid straining your Canon camera by retaining low ISO levels. Whether you want to go wireless or manual, the multi-setting of this flash would help enhance your light output.
Pros
It contains a diffuser and color conversion filter for enhancing the light output.
Flash power can compensate for the auto white balance of Canon cameras.
Cons
Autozoom doesn't work when using the diffuser.
Sale
YONGNUO YN968N Wireless Camera Flash Speedlite...
When YN968N is used as Master unit, It can control and Fire YN968N/YN622N(II)/YN685N being Slave...
When YN968N is set as YN622 (Slave mode), It can received control signal or trigger signal from...
GN60@ISO100, 105mm, supports high-speed sync TTL, manual flash, multi flash, Gr grouping flash, the...
Best Cheap Yongnuo Flash for Canon: Yongnuo YN-560 IV Speedlite
Whether it's a full-frame, crop-sensor, or mirrorless, investing in Canon cameras doesn't come particularly cheap. If you're looking to mitigate your expenses, try pairing your Canon camera with the Yongnuo YN-560 IV Speedlite.
While the flash output of the YN-560 IV is powerful enough to reach up to 58m and keep a Canon camera at ISO 100, its recharge rate of 4 to 5 seconds is significantly slower compared to its Yongnuo counterparts.
However, this is a fair trade-off as the flash offers a zoom range of 24-105mm, which you can expand up to 18mm when using a diffuser. Whether you prefer wireless or manual, you can use up to 8 levels of flash output to back up the sensor of Canon cameras.
Pros
Powerful light output stabilizes the slow autofocus of some Canon cameras, such as the EOS 60D and 6D Mark II.
Flash coverage is suitable for Canon full-frame cameras like 5D Mark II.
Cons
It uses a clamping disk instead of a lever for fixing the flash.
Yongnuo YN-560 IV Flash Speedlite for Canon Nikon...
Supports Wireless Master Function
Supports Wireless Slave Function, fully supports YN560-TX, RF-603, RF-602 Wireless transmitter
Multiple Trigger Synchronous Mode Supported
Best Ring Light Yongnuo Flash for Canon: Yongnuo YN-14EX TTL Macro Ring Lite Flash
Suppose your real estate photography style doesn't involve bouncing light, or you're into macro and product photography. In that case, the Yongnuo YN-14EX Ring Lite Flash is a good flash option for Canon cameras that require direct light.
While the power output of this flash is way weaker than the other flashes, the guide number of 14m is enough for nearby and smaller subjects. Despite that, the YN-14EX is even 1 second faster than the YN-560 IV.
The downside is that getting close to the subject means putting the camera sensor right up against your shadow. However, at proximity, this ring flash can surround your subject with ample light to eliminate shadows.
Pros
It easily softens shadows caused by a Canon camera's position.
Adds lighting effects to the subject when shooting straight.
Cons
May produce dark corners when the crop-sensor camera or lens magnifies the subject.
YongNuo YN-14EX TTL Macro Ring Lite Flash Light...
1.LARGE-SIZE LCD DISPLAY / LED AF ASSIST LIGHT
4.PROVIDED WITH EXTERNAL POWER SOCKET / AUTOMATIC SETTINGS SAVING
2.SOUND PROMPT SYSTEM / HIGH SPEED RECYCLING SYSTEM
Best Automatic Yongnuo Flash for Canon: Yongnuo YN-568EX TTL Flash
Being a flash specifically designed for Canon cameras, the Yongnuo YN-568EX TTL Flash automatically adjusts its exposure according to the camera settings. This is exceptionally helpful when shooting scenes with varying light sources, much like in street or real estate photography.
The YN-568EX has a similar power output to the YN-560 IV, although its recharge rate is 1 second faster. In effect, you have enough time to change your angle or modify the flash head's position.
With its TTL capacities, this flash is more effective when you need to shoot in several sequences as you activate the multiple trigger mode. Besides, it allows high-speed sync to make the shutter speed faster.
Pros
Boosts exposure for a more accurate viewfinder in the likes of Canon 650D and 7D.
Flash power lets you use low ISO values to maintain dynamic range.
Cons
Creates a slightly scattered color temperature.
Yongnuo YN568EX YN-568EX TTL High Speed 1/8000...
1,Support HSS, the High Speed Sync, up to 1/8000 second
2,Hot shoe TTL for Canon
3,Flash Modes: ETTL / i-TTL, M, Multi Mode
Features to Consider in a Yongnuo Flash for Canon
Yongnuo houses an extensive collection of external flashes you can use for your real estate photography. However, these are the aspects you need to check for the best Yongnuo flash for Canon cameras.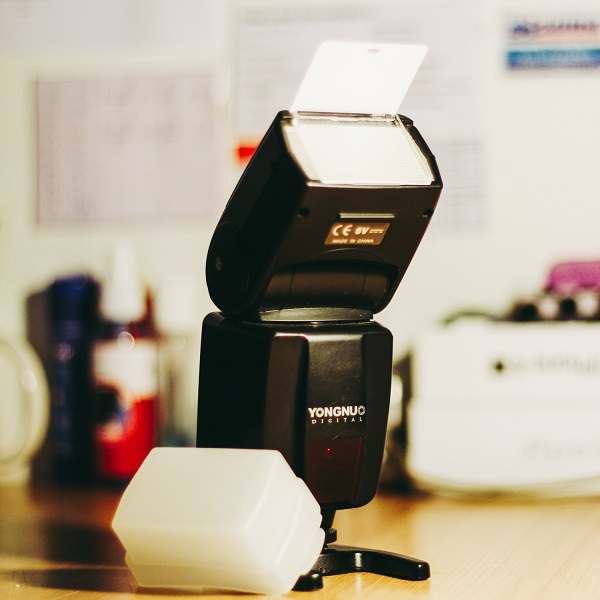 Flash Power
Canon cameras boast superb image resolution, primarily because the sensors perform well in catching lots of light. However, this also means it's preferable to shoot at ISO 100.
When using standard ISO values, both the Yongnuo YN600EX-RT II and Yongnuo YN968N II emit a powerful light output of up to 60m.
Meanwhile, the YN-560 IV and YN-568EX can cover up to 58m. On the other hand, the YN-14EX can only reach up to 14m due to its direct ring light.
Recycle Speed
Some Canon cameras suffer from slow autofocus, particularly when there's not enough available light. While built-in flashes can fire light faster, the output tends to falter eventually.
This is why it's still ideal to use Yongnuo external flashes as they have among the fastest recycle rates. For instance, the Yongnuo YN968N II brags a 2-second recharge time, while the YN600EX-RT II comes close at 2.5 seconds.
Both the YN-568EX and YN-14EX can produce light at full power within 3 seconds, whereas the YN-560 IV needs at least 4 seconds to fire again.
Compatibility
While Yongnuo flashes are compatible with Canon cameras, you still need to crosscheck if a specific flash unit is compatible with your Canon model.

This is because you can't attach the external flash to the camera body if the hot shoe isn't suitable. The same rule applies to the trigger, as not all triggers work with other flashes.
Conclusion
Yongnuo is among the credible third-party brands that produce compatible yet significantly cheaper flashes than Canon speedlights. With any of the Yongnuo flashes above, your Canon camera can take better exposed real estate photos. You can also read our review of the best Yongnuo flash for Nikon cameras.