Brand
Best Overall
Sony Alpha HVL-F32M Flash
Best for the Money
GODOX TT350S
Best Cheap Pick
Neewer TT560 Speedlite
Product
Best Overall
Brand
Sony Alpha HVL-F32M Flash
Product
Best for the Money
Product
Best Cheap Pick
Product
Best Overall Flash for Sony A6300: Sony Alpha HVL-F32M Flash
Compact yet packed with features, the Sony HVL-F32M is the best external flash you can get in 2021. It is well suited for the Sony A6300 and for use on mirrorless cameras and smaller DSLRs.
For those who are simply looking for a lightweight lighting solution, this flash provides a balance of power and size with a respectable guide number of 105'. A guide number this high means that the flash can travel a greater distance to illuminate your objects.
In addition, the built-in auto zoom range works up to 100m on full-frame cameras. The unit can tilt upward 90° as well as rotate 180° sideways allowing you to bounce light in horizontal and vertical shooting positions.
An added benefit of the Sony HVL-F32M flash is its ability to work as a wireless TTL controller or as a remote flash. This gives you the option to set up multiple flash units around your objects for more complex lighting setups.
Sony HVL-F32M TTL External Flash alpha7 Series...
Sony HVL-F32M TTL External Flash - Case - Connector Protective Cap - Sony 1 Year Warranty - Bundle...
Adorama Camera Valuable Bundle. Kit Includes.
HVL-F32M TTL External Flash for Sony alpha7 Series Cameras, 24-105mm Coverage, Manual/TTL Exposure...
Best Flash for Sony A6300 for The Money: GODOX TT350S
With full support for the Sony A6300, the GODOX TT350S is an excellent companion for your camera with a variety of useful features. It comes with a built-in 2.4GHz radio system, capable of transmitting light well over 100m.
With a lightweight design and guide number of 118', you can expect a powerful flash that can travel a greater distance to illuminate your objects. The TT350S is helpful for both on-camera and off-camera operations, and users can also use it as an optical slave or master unit. Its also a versatile unit with the ability to rotate from -7 to 90° and 270°, for better-angled shots
You can also expect multiple functions including HSS, a stroboscopic flash, and first and second curtain sync. It runs on two AA batteries and works quickly with a recycle time of 0.1-2.2 seconds.
GODOX TT350S 2.4G HSS 1 / 8000s TTL GN36 Camera...
This Mini TT350S camera flash is for Sony Mirrorless digital series cameras and is compatible with...
Two sending styles to offer creative light effect: Optical transmission with even illumination and...
Full TTL functions: Supports HSS (max. 1 / 8000s), FEC, front & rear curtain sync, multi-flash,...
Best Cheap Flash for Sony A6300: Neewer TT560 Speedlite
If you're tight on a budget, then the Newer TT560 Flash is the perfect flash for your Sony A6300. One of the most useful features of this flash is its connectivity options, allowing you to communicate with other flashes as a secondary option.
It has two built-in panels at the front of the flash head to help the reflector card fill in shadows when bouncing light upwards to soften your light. For wireless triggering, you can use this flash in two different modes: instant sync or for skipping a pre-flash. If you prefer a wired connection, a sync port is also available.
The Newer TT560 runs on four AA batteries and has a recycle time of 0.1 to 5 seconds depending on your power settings and the batteries.
Neewer TT560 Flash Speedlite for Canon Nikon...
Vertical Rotation Angle: 0~90 degrees, Horizontal Rotation Angle: 0~270 degrees; Note: Don't support...
Compatible with for Canon Nikon Panasonic Olympus Pentax Fijifilm and Sony with Mi Hot Shoe...
Power Management: Switch to the ON, the flash will start charging (the charging indicator is dim)
Features to Consider for Flash for Sony A6300
Fortunately, many flashes are great for your Sony A6300 and will allow you to take great photos without the need for professional lighting. However; there are a few things you need to consider while choosing a flash for your Sony A6300.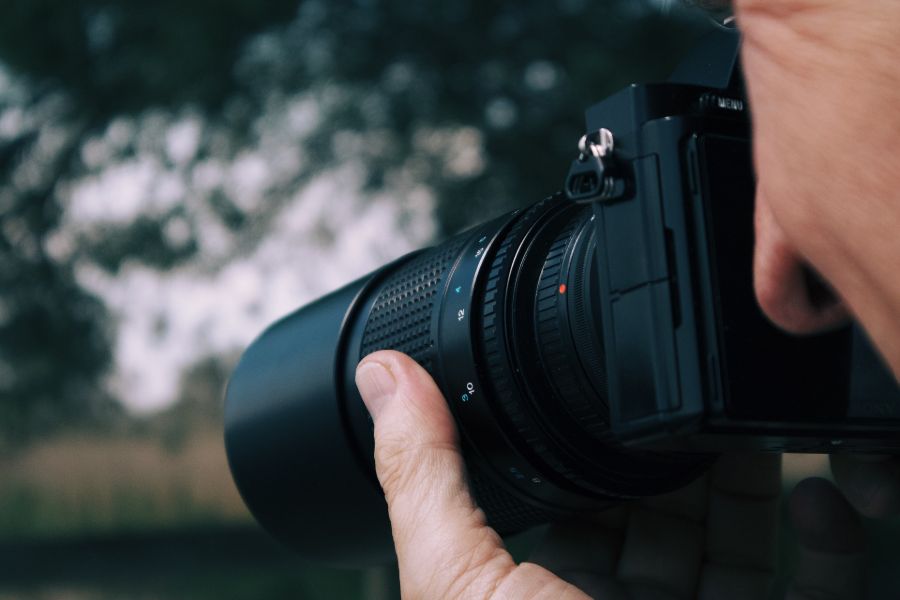 GN Value
The GN or guide number is a measure of the power of the external flash. You should always take a close look at the GN value of your moment to get an idea of the power levels that you can expect for your Sony A6300.
If you decide to go with a flash that has a higher GN number, you can expect brighter light hitting your object. This can be helpful if you're shooting in really dark rooms within a house.
Read our Sony A6500 Flash Buying Guide!
Recycle Time
When we talk about recycle time, we mean the lag period between taking each photo with your Sony A6300 While using an external flash, you need to go for low recycle times to take pictures in quick succession.
The importance of this feature depends entirely on your mode of use. If you cover live objects that need fast shutter speeds, getting a flash with a recycle time of 0.1 to 2.2 seconds should be quick enough to handle all your photography needs. When it comes to real estate photography, generally, there isn't much of a need to have a fast recycle time since your subject (the house) is static.
Adjustable Temperature
External flashes are bulky devices that use quite a bit of power. This causes them to heat up fairly quickly, which is why it's essential to look into the temperature control specs of the flashlight.
You can quickly check for the adjustable temperature on the official website of the manufacturer. Just remember, the hotter the flash, the harder it becomes for you to hold when using it with your Sony A6300. This can be an issue for those who need to take pictures for long periods.
Conclusion
If you own a Sony A6300 and love taking photos every chance you get but think the images just aren't as crisp as you know they could be - then you're right. One of the most important reasons for having a great flash on your camera is to capture greater detail in your subject's backgrounds, which leads to amazing-looking photos!