Brand
Best Overall
Peak Design V1 Everyday Backpack
Best for the Money
Think Tank Airport Advantage Rolling Carry-On Camera Bag
Best Cheap Pick
Lowepro Toploader Zoom 55 AW II Camera Case
Product
Product Dimensions
7.28 x 12.72 x 19.49 inches
Best Overall
Brand
Peak Design V1 Everyday Backpack
Product
Best for the Money
Brand
Think Tank Airport Advantage Rolling Carry-On Camera Bag
Product
Product Dimensions
7.28 x 12.72 x 19.49 inches
Best Cheap Pick
Brand
Lowepro Toploader Zoom 55 AW II Camera Case
Product
Best DSLR Camera Bag for Travel Overall: Peak Design V1 Everyday Backpack
True to its name, the Peak Design V1 Everyday Backpack can serve as your go-to DSLR camera bag for travel. If you're always on the road to shoot properties, it can safely hold delicate real estate photography gear without straining the back or occupying your hands.
Peak Design V1 has the same vertical space design as the Pacsafe Metrosafe LS450, although this backpack has a bigger load capacity of 30L. Its expandable body features 3 FlexFold dividers that can hold 2 DSLR cameras and up to 6 lenses. In addition, it has a dedicated sleeve for storing a 16-inch laptop.
The Peak Design V1 is 2.5 pounds lighter than Think Tank Airport Advantage, even if they have the same main material. Despite being lightweight, the nylon canvas shell is tough and durable, making it highly suitable for travel, especially when commuting.
When you're walking across streets to take architecture and exterior photos, you won't have to worry about your gear getting wet because the material is also waterproof and easy to clean. It even uses premium weatherproof zippers.
Pros
Contains a patented MagLatch for quick top access, with dual side-loading and weatherproof side zips
Includes magnetically sealed pocket underneath the top flap for storing other valuable items like wallet, phone, passport, and plane tickets
Cons
Light base padding
Short strap length
Sale
Peak Design Everyday Backpack 30L (Charcoal Camera...
The expandable design offers 30L of storage to hold 2 DSLR/SLR camera bodies and 3-6 lenses.
Padded laptop sleeve/pocket holds laptops up to 16" (See listing for exact measurements).
3 Flexfold Dividers protect cameras, drones, and lenses. Works as a professional camera backpack.
Best DSLR Camera Bag for Travel for the Money: Think Tank Airport Advantage Rolling Carry-On Camera Bag
If the Peak Design V1 is too small for your bulky DSLR cameras and accessories, it would be better to use the Think Tank Airport Advantage Rolling Carry-On Camera Bag, which has a larger load capacity.
Despite its size, the rolling bag only weighs 5.9 pounds, so you still have much leeway to bring many items without going over the baggage weight limit. This DSLR bag for travel may look bulky, yet you can fit it in the overhead bin or under an airplane seat.
The bag can hold at least 1 standard size DSLR camera with an attached lens, extra 4 lenses, and a 15-inch laptop. The padded separators use Velcro attachments so that you can customize the fit of your camera and other tools. There's also a side pocket for storing a tripod.
Unlike the Endurax Backpack, this Think Tank Rolling Bag isn't completely waterproof, although it's water-repellent to some extent.
Pros
Padded compartments and touch-fastening dividers to organize your gear safely
A retractable trolley handle and ball-bearing wheels make it easy to carry the luggage around
Cons
Lacks small pockets or zippered pouches that most backpacks contain
Tends to fall over forward if not stuffed properly
Airport Advantage Rolling Carry-On Camera Bag -...
Specially designed interior to maximize gear for carry-on for small aircraft such as commuter and...
Ultralight design weighs only 5.9 lbs. (2.7kg), keeping your roller under weight restrictions
Dedicated laptop pocket fits up to 15" laptops in a padded sleeve - Laptop may expand external...
Best Cheap DSLR Camera Bag for Travel: Lowepro Toploader Zoom 55 AW II Camera Case
When sightseeing inside a vehicle, there may be times when you can't move around to get all of your things. With the Lowepro Toploader Zoom 55 AW II Camera Case, you can swiftly bring out a DSLR with an attached telephoto lens to take photos anytime.
Unlike the other camera bags, the holster design of the Toploader Zoom allows you to wear this bag as a cross-body via the built-in belt loop or using a chest harness that you have to buy separately.
Aside from the interior compartment, this holster bag features a zippered pocket on the top cover for storing spare memory cards or batteries. However, the tradeoff for its lower price is that it doesn't have thick paddings or dividers that the rest of the bags use.
Still, this can be your go-to camera bag if you only need a single DSLR and lens setup. With an adjustable and removable shoulder strap, you can customize and find the most comfortable way to wear the bag.
Pros
Most lightweight DSLR camera bag at 0.45 pounds
Can balance when in an upright position
Cons
Thin padding or stuffing
Divider piece is a bit flimsy
Lowepro Toploader Zoom 55 AW II Camera Case for...
Fits a DSLR with attached 70-200mm f/2.8 lens and small accessories
Protect gear from rain, snow, dust and sand with a patented, built-in All Weather AW Cover
Wear bag three ways: across body, via built-in belt loop, or with Top load Chest harness (sold...
Best Rugged DSLR Camera Bag for Travel: Endurax Waterproof Camera Backpack
If you want to combine the toughness of the Pelican 1510 and the backpack style of the Peak Design V1, you can achieve that in the Endurax Extra Large Camera Backpack.
It offers super-fast access to your DSLR, and you can swiftly grab tools from smaller compartments. It is large enough to hold a DSLR camera with an attached super-telephoto lens of up to 600mm.
The Endurax Backpack is also spacious to fit extra 8 lenses, 2 external flashes, and a 17-inch laptop. There are mesh pockets on the sides for tripods or water bottles. The compartments come with padding to prevent your tools from scratching against each other.
Moreover, it features a PVA-front armored panel for extreme protection on your equipment. Like the Neewer 2-in-1 Convertible, this DSLR bag uses lockable zippers to prevent your gear from getting stolen.
The Endurax Backpack has the same polyester material as the Pacsafe Metrosafe LS450, so the bag is waterproof. Still, there's an added rain cover to protect your bag from outdoor elements.
Pros
Uses a light reflection strip on the shoulder straps and breathable airflow back padding
Contains a Standing Pad Wear that enables the bag to stand by itself
Cons
Exterior design is too obvious that you're carrying photography gear and possibly a drone
Bottom foam is a bit thin, so you may need to add some cushion
Endurax Extra Large Camera Backpack Waterproof...
Endurax hiking camera backpack is large to fit camera with long lens attached like Tamron or Sigma...
Ultimate Protection Backpack for Mavic Series - Specialized zone compatible with DJI Mavic 2, Mavic...
Rugged Hard Protection for Your Gears - Endurax camera and drone backpack features a PVA front...
Best DSLR Camera Bag with Divider System for Travel: Vanguard Supreme 46D Waterproof Camera Case
The great thing about using a camera bag with a superior divider system is that you can adjust weight distribution without sacrificing gear protection. Like the Vanguard Supreme 46D Camera Case, its removable divider system provides optimum organization while withstanding the most extreme conditions.
This traveling bag contains a 3-piece foam set with a recessed interior for configuring the inside of the case according to your needs, enabling you to pack several large DSLR cameras. Additionally, you can bring other types of cameras, such as drones or 360 cameras.
Unlike the others, the Vanguard Supreme 46D features an automatic pressure equalization valve that equalizes the internal air pressure. This feature prevents vacuum lock, which sometimes makes cases hard to open due to air pressure in flights.
Similar to the Pelican 1510, the Vanguard Supreme 46D uses alloy steel as the case's primary material. Aside from 2 sturdy wheels, it also has 6 lever-fastening clamp grips on 3 sides and a long retractable handle for improved mobility.
Pros
Can carry up to 260 pounds of photography equipment, perfect if you need to travel a long distance and stay in one place for a long time
Comes with steel-reinforced padlock receptacles and anti-slip rubber feet
Cons
May tend to go beyond the weight limit of some airlines
Difficult to bring when you need to walk for hours
Vanguard Supreme 46D Waterproof Camera Case with...
Water, air and dust proof up to 5 metres
Supports up to 120kg of exterior weight. Weight-3.2 kg
Automatic pressure equalisation valve
Best Anti-Theft DSLR Camera Bag for Travel: Pacsafe Metrosafe LS450 Anti-Theft Backpack
Are you constantly taking public transportation to go to shooting locations? For security-conscious photographers, the Pacsafe Metrosafe LS450 Anti-Theft Backpack will give you peace of mind in bringing expensive DLSR cameras even when commuting.
If you tend to worry about bag slashers, the Pacsafe Backpack is a more suitable option since it uses eXomesh material. This is a built-in yet concealed stainless steel wire mesh that prevents the fabric panels from being easily cut.
Despite its simple exterior, the Pacsafe Backpack houses 3 lockable zippered pockets, a padded laptop sleeve, and side pockets. It also has several layers of foam for keeping your gear organized and safe from aftershocks.
This DSLR bag for travel even has adjustable padded shoulder straps for ultimate comfort when you have to stand on a bus or train for a while. However, the width is narrower than others.
Pros
Smaller than the other backpacks we reviewed, making it easier to wear in crowded tourist areas
Uses RFID protection to safeguard sensitive information on passports, credit cards, and other documents
Cons
The fabric feels hot on the back, although this is a good body insulator during cold months
No headphone jacks or USB ports
Pacsafe Metrosafe Ls450 25 Liter Anti Theft Laptop...
ANTI-THEFT DESIGN - with Lockable Zippers and Cut Proof Materials (lightweight steel mesh) to...
ORGANIZATION & POCKETS - 3* Lockable Zipper Exterior Pockets, 1* Padded & Suspended Interior...
COMFORTABLE BAG - With Padded Shoulder Straps, adjustable from 26.8" to 36.2". Ideal for Traveling,...
Best Large-Capacity DSLR Camera Bag for Travel: Neewer 2-in-1 Convertible Wheeled Camera Backpack
If you can't decide between backpack and rolling luggage, the Neewer 2-in-1 Convertible Wheeled Camera Backpack will give you the best of both worlds. Its large capacity and wheeled design keep your DSLR cameras secured and organized while being portable.
It contains 11 adjustable dividers for carrying DSLR cameras, lenses, and external flashes. Meanwhile, tiny mesh pockets can store batteries, memory cards, chargers, cables, and filters. Despite its large size, its body fits most airline overhead bins.
Like the Think Tank Airport Advantage, the Neewer Camera Backpack features TSA-accepted zipper locks to keep your belongings safe while traveling. It also has a rugged top handle, which provides a secure grip for lifting the bag when walking on stairs or uneven surfaces.
For the ultimate comfort, this convertible backpack uses foam-padded shoulder straps when you need to walk across rooms. Similar to the Vanguard Supreme hard case, the Neewer backpack also has an extendable telescopic handle and smooth wheels to keep your back free of load.
Pros
Airplane carry-on compatible that you can transform into a hand-carrying bag, backpack, or pulling trolley case
Uses water-resistant nylon and rain cover for protecting your gear against rain, dirt, and humidity
Cons
Prone to curb rash due to the lack of plastic plate behind the wheels
Bulky exterior
Neewer 2-in-1 Convertible Wheeled Camera Backpack,...
Size: 13.8x10.2x21.7 inches/35x26x55 centimeters; NOTE: Considering the different requirement of...
LARGE CAPACITY: Can load a full DSLR body with lens attached; 11 additional configurable...
INNOVATIVE STORAGE PLACE: Padded compartment for a tablet or 17-inch laptop; front pockets, side...
Best Small DSLR Camera Bag for Travel: Domke F-2 Original Shoulder Bag 700-02D
Perhaps you prefer the most convenient access while keeping your hand free when shooting. In that case, the Domke F-2 Shoulder Bag is the perfect DSLR camera bag for travel to bring out your camera instantly without removing the bag from the shoulders.
One of the great things about its design is that it opens from the top, much like backpacks, yet without the big load. In effect, you get a full display of your equipment and conveniently bring out things.
The Domke F-2 has a total of 12 removable compartments and pockets for carrying 2 DSLR cameras, 5-6 lenses, an external flash, and a small tablet. Meanwhile, the adjustable non-slip straps allow you to wear the bag either as a shoulder or messenger bag.
The material isn't as heavy-duty as the hard cases or backpacks we reviewed. However, the canvas is thick enough for protection yet feels soft against the bag, making it comfortable to carry around all day.
Pros
Includes a removable bottom stiffener, YKK zippers, steel snap hook, and removable hand carrying strap
Weighing only 2 pounds, this is the second most lightweight DSLR camera bag we reviewed
Cons
Cotton material quickly gets wet
Doesn't have a tripod strap
Domke F-2 original shoulder bag 700-02D (Olive)...
Ideal for two digital Cameras with or without Motor drives, Multiple lenses up to 300 millimeter,...
12 compartments and pockets which Includes a patented padded, adjustable & removable 4 compartment...
Proudly Made in USA from tough and durable 100 percent cotton canvas
Best DSLR Camera Bag for Long-Distance Land Travel: Pelican 1510 Case With Foam
Pelican is a famous camera case among professional real estate photographers who want to keep their expensive DSLRs and accessories safe. Among its most valuable designs is the Pelican 1510 Case, a lightweight yet solid bag with plenty of cushions inside.
While you must avoid getting your bags tipped over, the polypropylene shell of the Pelican 1510 prevents damage during accidents when you're driving up steep slopes. This is thanks to the customizable padded foam that keeps your items safe from shocks.
The Pelican 1510 is a better alternative if you want a waterproof bag with a bigger capacity than the Peak Design V1. Even if you need to walk across rivers or under the rain, the watertight wall design keeps photography equipment dry.
Unlike the Vanguard case that uses cubbed foam, the Pelican 1510 features foam inserts with adjustable dividers for better organization. The package comes with standard single-layer padding, although you can add a case divider kit and lid organizer.
Pros
Waterproof, dust-proof, crush-proof, and has a buoyancy of 64 pounds
Polypropylene case has an excellent impact strength and chemical resistance
Cons
Insufficient dividers for smaller lenses
The heavy weight may exceed the carry-on limit of some airlines
Pelican 1510 Case With Foam (Black)
Watertight, Crush-Proof and dust-proof. Lid depth:  1.79" (4.5 cm); bottom depth: 5.79" (14.7 cm);...
FAA maximum carry on size
Open cell core with solid wall design to make a strong yet lightweight travel case
Best DSLR Camera Bag for Travel Photo Walks: Vanguard Alta Sky 45D Camera Backpack
The Vanguard Alta Sky 45D Backpack is another camera bag for travel that will get you and your DSLR from point A to point B safely. It contains organizers, connectors, and side pockets for carrying water bottles to keep you hydrated during long photo walks.
This DSLR bag is heavier than the Endurax Extra Large Backpack. However, Endurax only has two-section compartments, whereas the Vanguard 45D features top, middle, and base compartments with Velcro dividers for superior configuration.
Furthermore, its multi-access design makes it convenient for you to pull out a DSLR from one side and accessories from the outer pockets. You can do all of this without wasting precious seconds to capture subjects in ambient lighting.
While it carries 47 pounds less load than the Peak Design V1, the 19-pound capacity of the Vanguard 45D is suitable for keeping the bag within airport carry-on limits.
Pros
Straps and fold-out pockets for carrying a tripod and drone
Quick-access flaps for revealing items
Cons
Nylon material isn't waterproof, although the camera bag includes a rain cover
Position of the waistbelt side pads may feel uncomfortable to some people
Vanguard Alta Sky 45D Camera Backpack for Sony,...
Multi-access quick-action - full rear opening, side and top access and separate opening to...
Ultimate versatility - 100% gear to 100% personal and anywhere in between. Adapts to perfectly fit...
Well organized – numerous dedicated pockets, organizers and connectors for all essentials and stay...
Features to Consider for DSLR Camera Bag for Travel
The best traveling bag should be spacious enough to fit a camera body, lenses, charge, batteries, and other accessories you need to shoot real estate photos. The kind of material, pockets, and security details can be of personal preference, although it pays to compare features of different bags.
Product
Item Weight
Material
Compartments
Peak Design V1 Backpack
3.4 pounds
Waterproof nylon canvas shell
Flexfold Dividers
Padded laptop sleeve
Think Tank Airport Advantage Rolling Bag
5.9 pounds
Water-repellent nylon with, closed-cell foam padding
Dedicated laptop pocket
Lowepro Toploader Zoom 55 Holster Bag
0.45 pounds
Nylon
Zippered pockets
Endurax Extra Large Backpack
3.3 pounds
Water-resistant polyester
Two-section compartment with small pockets
Vanguard Supreme 46D Hard Case
7.2 pounds
Alloy Steel, rubber
3-piece foam set
Pacsafe Metrosafe LS450 Backpack
1.84 pounds
Polyester
Padded interior with exterior pockets
Neewer 2-in-1 Convertible Backpack
9.1 pounds
Water-Resistant nylon
11 adjustable dividers
Domke F-2 700-02D Shoulder Bag
2 pounds
Cotton
12 compartments and pockets
Pelican 1510 Hard Case
13.6 pounds
Copolymer-Polypropylene shell with stainless steel
Dedicated pockets and organizers
Vanguard Alta Sky 45D Backpack
4.6 pounds
Nylon
Padded touch-fastened interior dividers
Bag Style
While there's a multitude of DSLR bag styles out there, it's important to choose the camera bag style that would suit your organization system, especially on how you want to carry it.
Shoulder bag: Shoulder bags are perfect for a photographer with a laidback style that wants an easy-to-carry bag. The Domke F-2 700-02D is the only shoulder bag we picked because it's compact yet spacious. You can carry this bag over one shoulder for accessing items quickly.
Holster Bag: Because of its tiny size, you can attach a holster bag to your waist or things. Using a holster bag like Lowepro Toploader Zoom 55 lets you bring a few items while you leave the rest of your gear in a more oversized camera bag.
Backpack: Backpacks are versatile DSLR bags since they often have several pockets and easy-to-hoist straps. This is why the Peak Design V1, Endurax Extra Large, Pacsafe Metrosafe LS450, and Vanguard Alta Sky 45D are ideal for traveling because these allow you to carry all of your photographic equipment in one go.
Roller bag: If you're usually going on remote real estate photography work and you need to bring lots of heavy equipment, roller bags like the Think Tank Airport Advantage and Neewer 2-in-1 Convertible would suit you. This DSLR camera bag style has large compartments that you can easily bring around.
Hard case: DSLR, drone, and 360 cameras can be costly. If you want maximum protection for your real estate photography gear, it's better to choose hard cases like the Vanguard Supreme 46D and Pelican 1510.
Size and Load Capacity
Size and weight are also crucial when choosing the best DSLR camera bag for traveling. This affects how heavy the bag is or how well you can maximize the space. Likewise, this dictates how much equipment you can bring.
The Lowepro Toploader Zoom 55 is the most lightweight DSLR bag we reviewed, mainly because it has the smallest size. On the other hand, the Pelican 1510 weighs the heaviest due to its military-grade material.
The material is a key factor in a bag's weight. However, that doesn't mean you have to choose the thinnest fabric. Remember, you would be traveling around with fragile equipment, so you need a bag with a good structure and overall mass weight that won't restrict your shooting movements.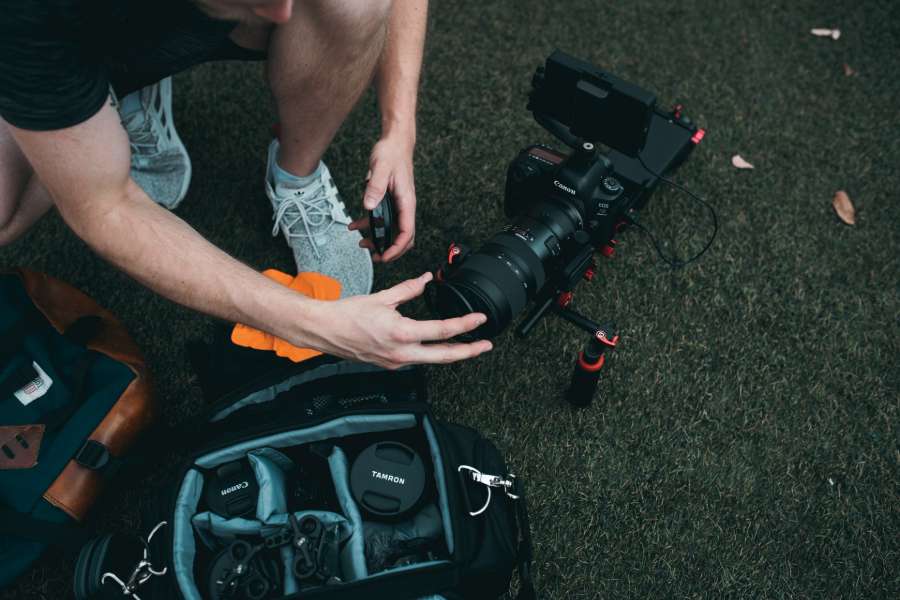 Organization and Customization
Is your chosen bag roomy to fit at least a camera body, two lenses, charge, batteries, tripod, and accessories? Do you have bulky DSLRs or compact mirrorless cameras? You'll want a DSLR camera bag that is spacious enough to house all of your photography equipment.
The more customization options you have, the more you can conveniently pack and carry your DSLR cameras. Some bags also have foam inserts and compartments so that you can easily position and see your gear.
For instance, you can use the Think Tank Airport Advantage and Neewer 2-in-1 as rolling bags and backpacks. However, they may be too big if you only need to bring a few pieces of equipment. In such cases, backpacks and messenger bags with adjustable straps may be ideal.
Comfort
Even if you're a traveling photographer, it's essential that the way you carry the bag feels comfortable.
For example, if you only need to bring a small camera and a lens, a backpack, messenger, or shoulder bag should be enough. These camera bags have straps that you can comfortably put over your shoulders to keep your hands free.
It would be challenging to haul around rolling luggage or hard case, especially since you need to hold these types of bags. Hence, your DSLR camera bag should offer adjustability so that you won't hesitate to carry photography equipment around, even if you have to walk across vast places.
Security and Discreteness
Thieves can make big bucks from your expensive camera. Particularly when you're roaming around an unfamiliar place, some DSLR bags scream of obviousness.
For this reason, it's important that a camera bag has an advanced locking system, just like in the Pacsafe Metrosafe LS450 and Think Tank Airport Advantage. Another option is to use lockable zippers, present in the Vanguard Supreme 46D and Pelican 1510.
Material and Craftmanship
Being a traveling real estate photographer means encountering weather and physical challenges to get to your location. Elements like water, sand, grime, and force can damage your camera.
You need to have a top-notch material and construction design that would prevent thieves or environmental elements from reaching your DSLR camera.
Canvas: Canvas is among the commonly used materials for travel camera bags because of its ruggedness and cheap price. Canvas bags like the Peak Design V1 may weigh more, yet the material offers additional cushioning, durability, and water resistance.
Nylon: Nylon bags are better options if you want resistance to abrasion, wrinkling, damage, and most chemicals. This is why nylon is the primary material of the Peak Design V1, Think Tank Airport Advantage, Lowepro Toploader Zoom 55, Neewer 2-in-1 Convertible, and Vanguard Alta Sky 45D camera bags.
Polyester: Polyester is as strong as nylon, yet it takes longer to dry. However, polyester DSLR bags like Endurax Extra Large and Pacsafe Metrosafe LS450 are still ideal for outdoor shooting, as long as you have a rain cover.
Alloy Steel: Alloy steel camera bags like Vanguard Supreme 46D and Pelican 1510 guarantee ultimate security and toughness while remaining lightweight.
Cotton: Cotton camera bags like the Domke F-2 700-02D are highly sustainable compared to nylon and polyester materials. However, they are easier to cut and get wet.
Ergonomics and Accessibility
Do you need to take off the bag every time you need to take a photo? Do you have to remove lots of buckles, or there's an easy-to-remove Velcro flap? Are the pockets rigid yet adequately sized?
It would be tedious to open the whole bag for hard cases and luggage, even if you only need to get one camera, particularly if you're walking in a narrow alleyway.
It's vital that you can quickly get your camera from the bag. This is why in some cases, it's more convenient to use backpacks, holsters, and messenger bags where you only need to flip the flap or open a sleeve.
Frequently Asked Questions
Can I Take My DSLR Camera on a Plane?
Yes, you can bring your DSLR camera on a plane, along with other common photography essentials. Just make sure to check with your airlines if there's a size limit for the camera bag for check-in or hand-carry.
Should Cameras Go to Hand-Carry or Carry-On Luggage?
Most airlines allow cameras in both hand-carry and carry-on luggage. However, since cameras are fragile objects, it's common for airlines to recommend bringing electronic devices with batteries as part of your hand-carry.
Conclusion
As you travel and shoot, you must protect your real estate photography gear against bumps, water, dirt, and theft. With this guide, we hope you find the sturdy and functional travel camera bag to secure your DSLR, lenses, and accessories.