Brand
Best for the Money
Canon EOS 5D Mark IV
Best Cheap Pick
Nikon D3500
Product
Optical Sensor Resolution
Best Overall
Product
Optical Sensor Resolution
Best for the Money
Product
Optical Sensor Resolution
Best Cheap Pick
Product
Optical Sensor Resolution
We're also sharing other noteworthy cameras in the market that we think could be the correct fit for a photographer. Let's cover these cameras features in detail and see which is the ultimate option for you. 
Sensor
Max Resolution
Max Video Quality
ISO Range
Nikon Z6
35mm Full-Frame mirrorless
24.5 MP
4K
100 to ​51,200
Canon EOS Mark D IV
36mm Full-Frame
30.4 MP
4K
100 to 32,000
Nikon D3500
23mm Crop-Sensor
24.2 MP
1080p
100 to 25,600
Sony A7RII
36mm Full-Frame
42.2 MP
4K
100 to 25,600
Nikon D7500
23mm Crop-Sensor
20.9 MP
4K
100 to 51,200
Canon EOS R
36mm Full-Frame Mirrorless
30.3 MP
4K
100 to 40,000
Panasonic LUMIX GH5S
17.3mm
Micro Four-Thirds
10.2 MP
4K
160 to 51200
Best Camera for Architectural Photography Overall: Nikon Z6
From suburban houses to skyscrapers, the Nikon Z6 Mirrorless Camera is the ultimate gear to give structures life, even in a photo. Among its powerful features is the 24.5 MP full-frame BSI image sensor, which retains dynamic range and minimizes chromatic aberration.
The Z6 is a much better option if you need the widest ISO range, which is 50-51200, to ensure that you can capture sharp pictures even in low lighting conditions. With this, you can capture sharp HD resolution shots and videos.
The Z6 also comes with an XQD memory card with exceptional 400MB/s read-write speeds, in addition to an advanced EXPEED image processor. This offers you fast, continuous shooting, which means you could take as many shots as possible.
With an upgraded OLED viewfinder, the optics and coatings reduce blackout time and refresh lag between snaps. To improve your shooting pace, you can use the Custom Settings section in the system interface to configure it to your most-used options.
Furthermore, the camera's sensor works well with filters to ensure that your images are free of surface glare and other UV-related effects. Lastly, a weather-sealed body made from magnesium alloy balances sturdiness and weight, especially for handheld shooting.
What We Like
Has 273 auto focus points across the entire 35mm frame to ensure image quality
Weighs only 1.29 pounds despite having a full-frame format, perfect for outdoor shoots
What We Don't Like
Lacks fast Wi-Fi and NFC connectivity system
Sale
Nikon Z6 FX-Format Mirrorless Camera Body with Z...
New larger Z mount for revolutionary optical performance
Nikon-designed 24.5MP backside Illuminated image sensor
273-Point on-sensor phase detect AF system
Best Architecture Photography Camera for the Money: Canon EOS 5D Mark IV
A clear level up from the Canon Mark II, the Canon EOS 5D Mark IV is another worthy pick to grow your architecture photography portfolio. It features a 36mm sensor that can collect large amounts of lights to guarantee full resolution and tack sharp images.
It only has a 61-point Dual Pixel Auto focus system, which is significantly fewer than the Z6. However, Canon's Mark IV makes up by producing 30-megapixel images. With this kind of resolution, you gain better flexibility in making compositions, thus, cropping whenever necessary.
An ISO range of 100-32000 also supports 4K videography. You can also expand it to 50-102400 in low-light environments. The base ISO of this Canon camera even produces cleaner shadows for lighting falloff effects on buildings.
Its speedy operation enables you to toggle between shooting modes so you can try as many compositional angles as you want. To top it all, this is one of Canon's cameras with long battery life, lasting up to 990 shots when fully charged.
What We Like
Compatible with a range of Canon lenses as well as and third-party lenses
A softer shutter reduces vibration
What We Don't Like
Heaviest at 1.76 pounds, although this is due to the massive sensor
Canon EOS 5D Mark IV Full Frame Digital SLR Camera...
30.4 MP full-frame CMOS sensor for versatile shooting
Up to 7.0 frames per second continuous shooting speed
You can be confident in the good quality, performance and reliability of every SanDisk Product
Best Cheap Camera for Architectural Photography: Nikon D3500 DSLR
Supposed you're still looking for the most affordable medium-format cameras for shooting pictures of buildings. In that case, the D3500 DSLR remains among the top Nikon lenses in the market. It is also a good entry level camera if you are a beginner photographer who wants to practice manual shooting.
This entry level camera has a wide ISO range of 100 to 25,600, similar to the Sony A7III, although at a cheaper cost. Despite having a 23mm crop sensor, the D3500 can create 24.2-megapixel images. 
However, this also means that the D3500 can only produce 1080p quality videos. On the bright side, this enables the camera to power through 1550 shots per charge.
With its EXPEED processor, the camera produces accurate and well-saturated colors. It also has 11 auto focus points that work well for general shooting, although not for moving subjects. Besides, it's easy to achieve even exposure whether you use spot, center-weighted, or matrix metering.
Even if it has a lower price tag, the D3500 uses an EXPEED 4 processor to ensure the shutter works quickly to collect light and produce a dynamic range. However, note that it doesn't have stabilization features, so it would be ideal to use a lens with vibration reduction.
What We Like
Weighs only 0.86 pounds, making it a handy walkaround camera
Allows Bluetooth transfer to save memory space
What We Don't Like
Only has 11 AF-point system, so it's better to use the manual focus
Nikon D3500 DX-Format DSLR Two Lens Kit with AF-P...
A DSLR that's as easy to use as a point and shoot camera
Compact, comfortable design that's great for travel and special events
Image sensor that's 15x larger than those used in typical smartphones for sharper, clearer pictures
Best Full-Frame Camera for Architecture Photography: Sony A7RII
The Sony A7RII Mirrorless Camera features multiple functions that allow you to achieve realistic architecture photography and videos. This camera has the biggest sensor out of all the DSLR cameras we reviewed, boasting a 36mm CMOS sensor that dramatically improves light collection for image quality and clarity.
An ISO range of up to 102,300 makes this Sony camera virtually oblivious to dark environments. Even in dim environments, the stabilization compensates for motion blur. As long as you pair this camera with a fast lens, it can retain excellent auto focus performance in low lighting.
Like the Canon's EOS R and the Z6, this Sony camera comes with a 4K quality for crisp videos. Whether you're photographing abstract lines or little details of a building, you can also shoot at a slower aperture and still achieve pixel sharpness.
This model also addresses the shutter-shock issue present in its predecessors. Its shutter mechanism has reduced noise and vibration, removing motion blur in pictures.
The inbuilt Wi-Fi and NFC connectivity allow you to trigger the shutter remotely. This is in addition to seamless file transfer to other devices.
What We Like
5-axis SteadyShot stabilization to support lenses in keeping lines straight
Hybrid 399 focal-plane auto focus system to take images with high contrast
What We Don't Like
Lacks inbuilt GPS for geo-tagging
Sony Alpha a7R II Mirrorless Digital Camera w Sony...
DPReview Recommended Bundle
Sony Alpha a7R II Mirrorless Digital Camera
Sony 16-35mm F4 OSS Lens
Best Cropped-Sensor Camera for Architecture Photography: Nikon D7500 DSLR
If you're still hunting the market for architecture photography cameras at a modest price, the Nikon D7500 DSLR can capture majestic pictures of buildings and skyscrapers for your portfolio. This camera combines fast automatic focus, low-noise performance, and excellent dynamic range in a rugged body.
Despite having a 23mm crop sensor, the D7500 has an ISO range of 100 through 51,200, making this DSLR comparable with the Z6 in terms of light sensitivity.
More than that, the D7500 packs the same 51-point autofocus system to keep immaculate detail-rich HD details in your images. Additionally, its 4K quality allows you to take videos in slow motion and time-lapse.
Because of its design, you can comfortably adjust the exposure settings using the 3.2-inch tilting LCD touchscreen. This feature also enables you to take shots at tight angles, in addition to allowing finger gesture control.
What We Like
3.2-inch tilting touch screen for taking low and high-angle shots
The kit comes with a sicturesof-the-art potassium ion battery that enables you to snap 950 images on a single charge. 
What We Don't Like
Limited range of video effects compared to cameras in the same price range
D7500 Dual Zoom Lens kit
Class leading image quality, is range, image processing and metering equivalent to the award-winning...
Large 3. 2" 922K dot, tilting LCD screen with touch functionality
4K Ultra HD and 1080P Full HD video with stereo sound, power aperture control, auto is, 4K UHD...
Best Mirrorless Camera for Architecture Photography: Canon EOS R
Whether you're photographing Brutalist towers or Romanesque columns, you can highlight every detail using the Canon EOS R Camera. With its DIGIC processor, you can take larger RAW files so that you can have greater flexibility in editing highlights, shadows, and dynamic range during post-production.
Like the Mark IV, the EOS R camera is another one of Canon's full-frame cameras with a 36mm sensor, enabling you to produce a 30.4-bit depth of image quality.
This camera contains 5655 autofocus points, one of the broadest detection systems in the camera market. However, this tends to make the touch and drag autofocus to be a bit unresponsive at times.
If you're into vlogging, you'll enjoy the camera's EOS Webcam Utility software, which allows you to stream live videos directly to your architecture photography themed YouTube channel. For shooting efficiency, this Canon camera comes with a vary-angle touchscreen LCD that allows you to take various angles.
What We Like
Offers fast and continuous shutter thanks to Canon's patent DIGIC 8 processor
Compatible with Canon's TTL flash system for improving the autofocus
What We Don't Like
Lacks button and system setting customization
Canon EOS R Mirrorless Camera Body and One Touch...
30. 3 Megapixel Full frame CMOS Sensor and DIGIC 8 Image processor
Dual Pixel CMOS AF with 5, 655 manually selectable AF points
4K 30P with Canon log and 10 bit 4: 2: 2 HDMI output; Dust and Drip Resistant
Best Video Camera for Architecture Photography: Panasonic LUMIX GH5S
The Panasonic LUMIX GH5S is a video-centric camera, so this is perfect for an architecture photographer who needs an all-in-one camera for stills and videos. With a 225-autofocus point system, you won't have to worry about manual focus, letting you work on the exposure and composition.
Because of its 17mm micro four-thirds sensor, the body only weighs 1.46 pounds. When you add attach the lens, the weight feels balanced in the hands. In effect, your glides and panning look smoother.
While the LUMIX GH5S only produces 10-bit depth images, you can improve image quality using the high ISO range of 160 to 51200. Even when shooting videos, you can get up to 440 shots per charge, much more than the Z6.
What We Like
Cinematic 4K and ultra HD videos at 60 fps
Fewer pixels results in less rolling shutter
What We Don't Like
The fixed sensor makes stabilization a bit weaker
PANASONIC LUMIX GH5s Body C4K Mirrorless Camera &...
10.2MP High-sensitivity MOS sensor with multi-aspect and Dual native Iso (400 & 2, 500) with a range...
Unlimited in-camera recording of C4K: 60p50p 8-bit, 30p25p/24p 4:2:2 10-bit, 4K: 60p50p 4:2:0 8-bit,...
45-150mm F4.0-5.6 zoom that is ultra-lightweight and compact
Frequently Asked Questions
What Are the Essential Features of Cameras for Architecture Photography?
Architecture photography cameras must have excellent autofocus and ISO range to ensure image quality. Their sensor should also support exposure to help your wide-angle or tilt-shift lens record dynamic range. Connectivity, video capacity, and rugged body design are also valuable features for cameras.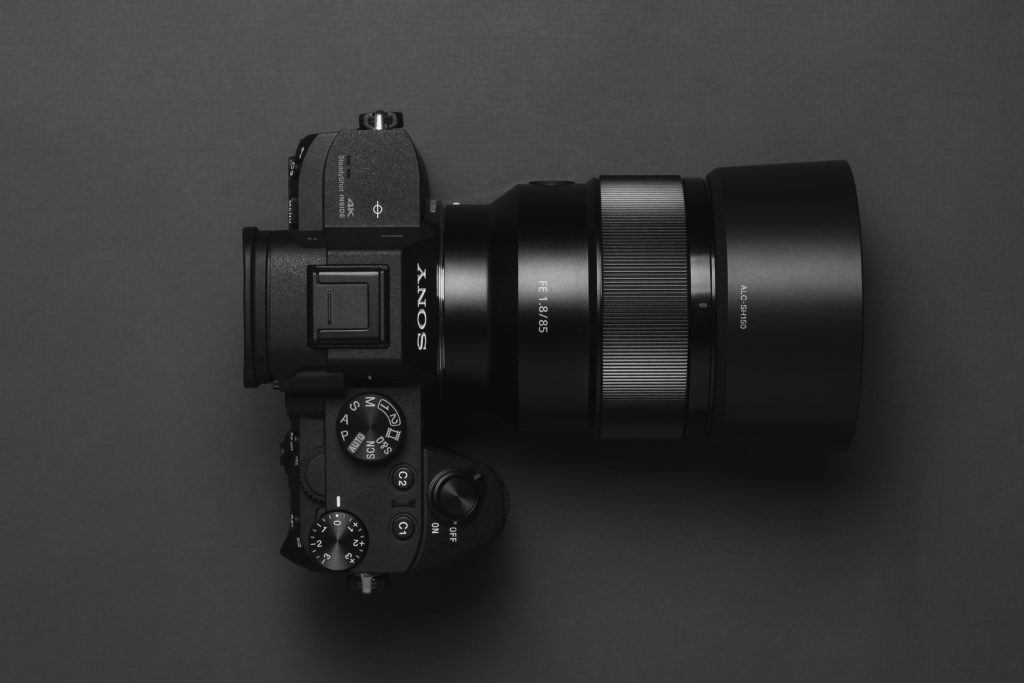 Should I Choose Cropped-Sensor or Full-Frame Cameras?
The format should depend on your desired effect, features, budget, and lens. Crop-sensor cameras are a great choice if you prefer lighter cameras at a cheap price. Meanwhile, full-frame cameras would be better if you want a larger sensor size and shallower depth of field.
How Can I Take Quality Architecture Photography?
Much like other types of photography, it's vital that you understand how to use your cameras and lens to apply the necessary exposure settings. You can capture creative architecture images by combining considering exposure, lighting, and angles. Finally, read articles to learn post-processing to enhance your architecture shots.
Conclusion
Your budget and lens choice may largely influence how you would choose cameras. However, you should also consider features such as wireless connectivity, battery life, and HD resolution. Ultimately, the right camera for you is the model that suits your unique architecture photography style.